Kayleen A. Niyo, Ph.D., is the owner and president of Niyo Scientific Communications and Kay Niyo Photography, a Dearborn, Michigan-based company, which provides biological, agricultural, and medical writing, editing, and report production services, as well as bird and other wildlife photographs. Dr. Niyo's broad educational background and professional experience in several scientific disciplines and in publishing ensure accurate and quality products for clients. See Dr. Niyo's Curriculum Vitae for her qualifications and Editorial Services for a list of professional services provided.
Kay is a naturalist and has always had an interest in all forms of fauna and flora. She is an avid birder and has birded in many areas in the United States and around the world. Kay shares her wildlife photographs and birding trip summaries in the Wildlife Photos section of this site.
She is active in several organizations including the Iowa Ornithologists' Union, Colorado Field Ornithologists, Denver Field Ornithologists, The Evergreen Naturalist Audubon Society, American Birding Association, and other national environmental organizations. For more information on these organizations, please visit the Favorite Links page.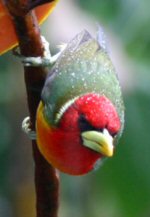 Search This Site